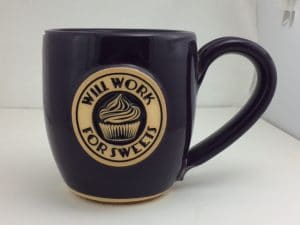 Don't let the word 'handmade' scare you away from using your new stoneware mug everyday and for a variety of drinks. Our mugs are fired twice for strength and will last for many years with a little TLC.
Food Safe
All of our glazes are lead-free and food-safe. You can fill your mug with any hot or cold beverage you like: beer, wine, tea, coffee, water, juice…you choose!  
Microwave Safe
Your stoneware mug is microwave safe, but be careful – your liquid and the mug (including the handle) can become extremely hot, just like most ceramic dishes.
Dishwasher Safe
Finally, you may put your mug in the dishwasher, but if your mug has a cork pad or O-ring on the bottom, we recommend hand washing to keep the cork intact as long as possible.
Thank you for purchasing a Grey Fox Pottery mug, handmade by our artists in Minnesota! We'd love to see how you use your mug. Tag us on Facebook, Twitter or Instagram using @greyfoxpttery